HAVE A PROBLEM?
We have the answers
My prints don't stick to the bed.
Be sure to wipe the printing bed with cleaning alcohol. If you still have issues with first layer adhesion, make sure your printing platform is properly levelled (Settings -> Maintenance). Check the video for more details.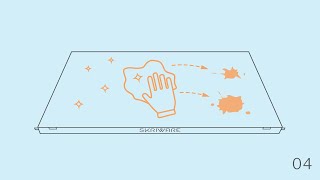 ---
The filement isn't coming out of the nozzle.
Your nozzle might be clogged. Heat up the clogged nozzle and remove any excess material from it using tweezers. Check the video for more details.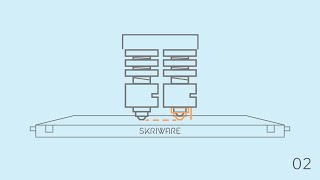 ---
What are "supports"?
Support is a structure which is automatically generated by the slicer, under some parts of the model that would print "in the air". They are usually needed when the model has a lot of overhang geometry. These can be removed after print, preferably with pliers.
---
How to print with second extruder?
Printing with both extruders is not yet supported through Skrimarket. However you can use Cura with supplied below profiles to use both extruders.
---
Fine-tuning the tension of the gear on the filament
Your printer's tension of the gear comes tuned to Skriware PLA filaments. Softer materials like TPU require less tension of the gear. Harder materials however require more tension of the gear.
---
The printer doesn't detect inserted USB flash drive.
Unplug and plug your USB flash drive again. If that doesn't help, restart your printer without USB flash drive inserted. Skriware 2 may not be compatible with USB 3.0 and some higher volumes flash drives.
---
I cannot see my network when connecting to WiFi.
Make sure that your wireless network is 2.4 GHz, not 5 GHz.
---
Where can I see the camera preview?
The preview from the camera is available on https://skrimarket.com/my/dashboard after logging in and pairing the Skriware 2 with an account.
---
I'm getting heater error and my printer turns off.
Check if the cables coming out of the heating block are not loose. For more details check Troubleshooting section in the Manual.
---
My filament has broken inside the machine.
If your filament broke inside the white nylon tube you can get it out following these steps. Push down on the coupler just above the extruder or above the filament sensor, and at the same time pull out the white nylon tube from it. You will have easy access to the broken filament. To secure the tube back in place, just push it into the coupler.
---
I cannot push the filament into the loading tube.
Cut the end of the filament at an angle so it has a "sharp" tip. Check the video for more details.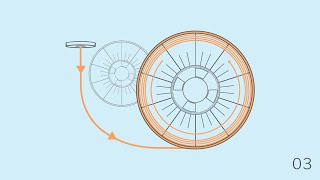 ---
The printer loads different temperatures from the ones stated on the filament sticker.
You probably don't have to worry about this discrepancy. The information that the printer loads from scanning the sticker should be the correct one. If you happen to encounter such an issue, let us know.
---
DISCOVER MORE
Video tutorials